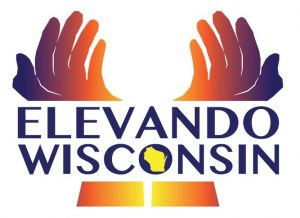 Empoderando líderes hoy para un mejor mañana.
Empowering leaders today for a better tomorrow.
¡Aceptando Inscripciones! ¡Regístrese antes del 10 de septiembre del 2021 para reservar su lugar!
 Accepting Applications! Register by September 10th, 2021 to reserve your spot!  
Elevando Wisconsin está diseñado para elevar sus habilidades de liderazgo personal y comunitario y construir una red de líderes en todo Wisconsin. El programa consta de cuatro sesiones en línea de septiembre a diciembre del 2021. Las sesiones serán en español e inglés.
Elevando Wisconsin is designed to elevate your personal and community leadership skills and build a network of leaders across Wisconsin. The program consists of four online sessions from September — December 2021. Sessions will be in Spanish and English.

¿Para quién es este programa?

Cualquier persona interesada en hacer una diferencia en Wisconsin y cualquier persona con pasión por liderar y / oayudar a otros. ¡Creemos que todos pueden liderar!

Who is this program for?

Anyone interested in making a difference in Wisconsin and anyone with a passion for leading and/or helping others. We believe that everyone can lead!

Las sesiones incluirán…

●     Definiendo su trayectoria de liderazgo personal
●     Comunicación eficaz
●     Demografía y diversidad
●     Antirracismo e igualdad
●     Desarrollando su capacidad de liderazgo (encontrando el equilibrio y satisfaciendo sus necesidades como un líder comunitario)
●     Construcción de redes
●     Manteniendo vivas las culturas
●     Mirando hacia el futuro (establecimiento de objetivos)

Sessions will include…

●     Defining your personal leadership journey
●     Effective communication
●     Demographics and diversity
●     Anti-racism and equity
●     Building your leadership capacity (finding balance and meeting your needs as a community leader)
●     Network building
●     Keeping cultures alive
●     Looking ahead (goal setting)

Fechas

18 de septiembre, 10am-3pm
16 de octubre, 10am-3pm
20 de noviembre, 10am-3pm
11 de diciembre, 12:00-4:30pm

Para finalizar el programa de Elevando Wisconsin, se espera que los participantes se comprometan a participar plenamente en el programa asistiendo activamente a las cuatro sesiones todo el día (5 horas cada día ) entre septiembre a diciembre.

Dates

September 18, 10am-3pm
October 16, 10am-3pm
November 20, 10am-3pm
December 11, 12:00-4:30pm

To complete Elevando Wisconsin, participants are expected to commit the time to fully participate in the program by attending four all-day sessions (5 hours each day) between September to December.
Contáctenos / Contact:
Este programa fue co-creado por líderesen los condados
de Fond Du Lac, Green, Milwaukee, Rock y Waupaca.
This program is co-created by leaders
in Fond du Lac, Green, Milwaukee, Rock, and Waupaca communities.