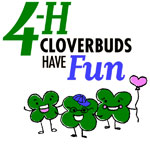 What is a Cloverbud or Explorer?
A Cloverbud is a youth enrolled in Kindergarten through 2nd grade as of January of the current year.
An Explorer is a youth enrolled in the Exploring project in 3rd through 4th grade.
"Make the Best Better" through "Learning By Doing"
---
Spring 2021 Cloverbud Kits
The Green County 4-H Cloverbud Committee has planned a 3-activity Cloverbud Kit for youth K-2nd grade. Activities will include Friendship Rocks, Fruit Batteries and Wind Pin Wheels.
We are especially excited to be able to offer this kit in whatever format works best for your family…
(a) in-person small group workshop –  Saturday, February 13 @ 10:00-11:30am, Green County Justice Center
(b) virtual workshops – Tuesday, February 16, 23 & March 2 @ 6:00pm, or
(c) do anytime on your own.
How the Cloverbud kits will work:
Designed for youth in 5K-2nd grade (do not have to be enrolled in 4-H to participate)
Registration due by January 25th at this link: https://bit.ly/3pcehK4
Kits will be available for pick up from the Green County Extension Office the week prior to February 13
$5.00 per kit for one child, and includes most supplies needed
Families will be invoiced, and payment is due prior to or at the time of kit pick-up
Financial assistance is available for this program, if the fee is a financial barrier to participation.
To request financial assistance and have the fee waived, please contact  the Extension Green County Office: 608-328-9440 or ellen.andrews@wisc.edu 
---
Cloverbud Project Resources
---
Learn the 4-H Pledge!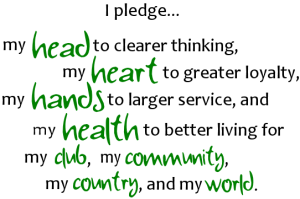 ---
Upcoming Meetings:
2021.02.11 Cloverbud Committee Meeting Minutes
2020.11.5 Cloverbud Committee Meeting Minutes
2019.10.3 Cloverbud Committee Meeting Minutes
2019.5.1 Cloverbud Committee meeting minutes
2019.4.4 Cloverbud Committee Meeting Minutes
2018.10.3 Cloverbud committee meeting minutes
2018.06.21 Cloverbud meeting minutes
2018.4.2 Cloverbud committee minutes
9.13.2017 Cloverbud Committee Meeting Minutes

Cloverbud Standing Committee Members:
Inga Marty, New Glarus (Term expires: 2021) – 608-444-3744, email
Ryan Andrews, Next Generation (Term expires: 2021 – 2nd term) – 608-293-0677, email
Laura Voelker, Spring Grove Honest Workers (Term expires: 2022)
Bridget Manthey, Young Americans (Term Expires: 2022) – 608-214-9990, email
Meghan Sievers, Clarence Bridge Pioneers (Term Expires: 2023), email
Carmen Burnard, Dayton Dairylanders (Term Expires: 2023) – 608-333-5720, email
Extension Green County Office – 608.328.9440