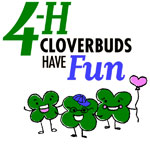 What is a Cloverbud or Explorer?
A Cloverbud is a youth enrolled in Kindergarten through 2nd grade as of January of the current year.
An Explorer is a youth enrolled in the Exploring project in 3rd through 4th grade.
"Make the Best Better" through "Learning By Doing"
---
2022 4-H Cloverbud Spring Workshop
Saturday, May 14, 2022 
10:00-11:30am  Green County Fairgrounds Check-in will be 9:50-10:00am, with pick-up at 11:30am. Parents are welcome to stay, but not required.
Youth will enjoy making new friends, while doing a combination of recreation, nature and art activities led by our 4-H Cloverbud Committee leaders.
Registration is required by Sunday, May 8 at: https://forms.gle/H6qX1jQKG882KZHPA
---
Cloverbud Project Resources
---
Learn the 4-H Pledge!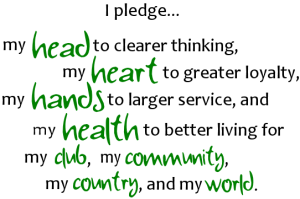 ---
Upcoming Meetings:
2022.03.12 Cloverbud Committee Meeting Minutes
2021.11.22 Cloverbud Committee Meeting Minutes
2021.02.11 Cloverbud Committee Meeting Minutes
2020.11.5 Cloverbud Committee Meeting Minutes
2019.10.3 Cloverbud Committee Meeting Minutes
2019.5.1 Cloverbud Committee meeting minutes
2019.4.4 Cloverbud Committee Meeting Minutes
Cloverbud Standing Committee Members:
Heather Watson, Cheese Country Clovers (Term expires: 2024)
Laura Voelker, Spring Grove Honest Workers (Term expires: 2022)
Bridget Manthey, Young Americans (Term Expires: 2022) – 608-214-9990, email
Meghan Sievers, Clarence Bridge Pioneers (Term Expires: 2023), email
Carmen Burnard, Dayton Dairylanders (Term Expires: 2023) – 608-333-5720, email
Extension Green County Office – 608.328.9440