Enroll in 4-H!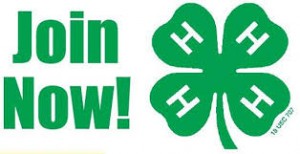 Interested in enrolling in 4-H?
We're excited to have you! If you are completely new to 4-H, the first step before enrolling is to choose a 4-H club. Please visit our Green County 4-H clubs page to learn more about choosing a club that best fits the needs of you and your family.
New enrollments and re-enrollments for the 2022-2023 4-H year will open on September 1, 2022. Youth may join 4-H at any time, however, our primary enrollment period is September 1st – November 1st.
All enrollments (new enrollments, re-enrollments, and adult leaders) are completed through the following link: https://v2.4honline.com
There are two deadlines – the enrollment deadline and the project selection deadline. In order to exhibit at the 2023 Green County Fair, returning members need to complete the enrollment process by November 1, 2022. For new members, again this year, project selections need to be finalized by January 15, 2023. This means you have from the time you enroll until January 15, 2023 to add, switch, or delete projects. Remember that you need to be enrolled in a project in 4-H in order to exhibit in that department at the Green County Fair.
Please reference the 2022-2023 Green County 4-H Enrollment, Project & Policy Guide for enrollment instructions and the 2022-2023 Green County 4-H Project Guide for detailed project descriptions. If you have any questions on the enrollment process, please don't hesitate to contact the Extension Green County office at 608-328-9440.
Here are some additional tips and reminders to help ensure your 4HOnline enrollment is completed correctly:
Contact Information: Review your family and individual profile and make sure that all contact information is accurate.
Code of Conduct: Read through the 4-H Code of Conduct with your son or daughter. Remember that you are signing that you have read, understand, and agree uphold this code.
Project Youth Leaders: 4-H utilizes project members, youth leaders, and adult leaders to create a cohesive and well-rounded experience for everyone. If you want to be a Youth Leader for a project area, help with project meetings and offer support for other project members, be sure to enroll in BOTH the regular project AND as a Youth Leader (Yth Ldr) for that project area. (Exception: You don't need to be enrolled in Cloverbuds to be a "Cloverbud – Yth Ldr.")
4-H Junior Leaders Group: Interested in getting involved with our Green County 4-H older youth group, called "Junior Leaders"? This group is open to all 4-H youth in 6th grade and older. The meetings are usually the 4th Monday of the month at 7:00pm at the UW-Extension Office. Enroll in this group by adding "Youth Leadership – Yth Ldr: Junior Leaders Group" from the project list.
Adult Project Leaders: Adults should ONLY be enrolling in the "Ldr (Leader)" option for a project. (Not the regular project or the youth leader option.) Only adults who enroll in the Leader option for their project area will show up on the project leader lists and receive communications sent to leaders.
Once your enrollment is complete, the next step is to pay your member and/or leader dues. All members will pay dues directly to the club leader, and each club will write one check to the Extension office for their club dues. (Leader dues for the 2022-2023 year are waived) Each club will have a different dues deadline, so please ask your club organizational leader(s) for the deadline to pay your 2022-23 dues. Please note that the Extension Green County Office will not approve your member or leader enrollments until we've received your club's dues from your club leader.
2022-23 Membership Dues: In 2022-23, dues for members, including Cloverbuds, are $15.00 per member. This covers accident insurance and county dues. Even though members are enrolled online, individual payment for 4-H enrollment is still paid to the individual 4-H Club leader. First year members are exempt from paying dues.
2022-23 Leader Dues: The annual dues for enrolled 4-H adult volunteer leaders is being waived for the 2022-2023 year. The 4-H Green County Adult Leaders Association will cover the cost of annual accident insurance and county dues.
Returning Adult Leaders – Some clubs choose to pay the Leader Dues for their adult volunteers, while other clubs ask that the volunteer pays. In 2022-2023, the leader dues are being waived for each leader. Please check with your club organizational leader(s) to find out what your club's policy is for club dues.
New Adult Leaders – All new adult volunteers, before beginning their 4-H leader role, must enroll through 4HOnline and complete the Volunteer in Preparation (VIP) process (includes online and face-to-face training). In 2022-2023 new leader dues are also being waived for New Adult Leaders. Adults interested in becoming 4-H adult volunteer leaders will have several opportunities to attend the required face-to-face VIP training throughout the winter months.
If you have enrollment questions, please talk with your 4-H Club Organizational Leader(s) or contact Ellen Andrews at the Extension Green County Office at (608)328-9440.