Youth for the Quality Care of Animals (YQCA) Certification
Wisconsin has replaced the MAQA program with the YQCA program, a youth education certification program on the issues of animal welfare, food safety and character education.
For 2021, this certification will be required of:
Green County Fair Animal Exhibitors (Dairy, Beef, Swine, Sheep, Goats, Poultry & Rabbits) – if you completed a YQCA certificate last year (2020), you must submit the certification number as part of the Green County Fair entry process. (NEW in 2021 for: Dairy, Sheep, Goats, Poultry & Rabbits)
If you did not complete YQCA in 2020 or are a new exhibitor in the animal areas, you MUST complete the YQCA procedures. 
If you are showing at any other fair, outside of the Green County Fair, be sure to check their requirements for the YQCA Certificate.
WI State Fair Junior Animal Exhibitors (Dairy, Beef, Swine, Sheep, Goats, Poultry & Rabbits) – please see the Wisconsin State Fair website for rules on this.
YQCA gives families more flexibility in gaining this required certification, by offering them two different learning methods:
All 2021 YQCA Training options MUST be registered and paid for online at https://yqca.learngrow.io
Option A – Web-Based Online Training (60-90 minutes) – Available 24/7 which allows exhibitors flexibility to take course at their convenience; Will contain 3 modules, tailored to youth age categories (ages 8-11, 12-14, 15-18 & 19-21); Each module will conclude with a 10 question quiz, with opportunities to go back into the modules to find the correct answers or retake the quiz after 1 hour; Must register online at a cost of $12/person/year for the online training and MUST be paid online.
Option B – Test Out – Youth ages 12($36), 15($48), and 19($36) may choose the test out option. Youth must score 80% or better and you will only be charged if you pass the test. If you don't pass, you will be instructed to take the web-based training. If you pass, you will need to retest when you reach the next age split.
Steps for Getting Your YQCA Certification: 
Click here for Step-By-Step directions with pictures.
Create An Account—Go to: https://yqca.learngrow.io
4-H Exhibitors—Please sign in using the "4HOnline" option. This will save you re-entering all of your contact info.
FFA Exhibitors—Please sign in using the "Independent Sign In" option.
Select a Course—it is IMPORTANT to select the correct course for the youth's age, as of Dec. 31, 2020.
Purchase a Course—Select the state, and then select Web-Based ($12).  MUST pay online for the course. Keep a copy of your receipt/confirmation.
Submitting Certificate of Completion—Once the training is complete, return to the course menu screen to download a PDF of the Certificate of Completion with the youth's unique certificate number. Certificate numbers must be submitted as part of the Green County Fair online entry process.
For more information, print the YQCA Flyer 2021 or please contact the Extension Green County office at 608-328-9440 with any questions.
---
2021 Dairy Judging Information – emailed to Dairy project members and leaders on 5/18/2021
The 4-H Dairy Judging is a great opportunity for youth to increase their knowledge of the dairy industry and practice decision making skills by evaluating various breeds and classes of dairy cattle.
The 4-H Dairy Judging Practice will begin Wednesday, May 19th, PROMPTLY at 7:45 PM at the Randall Smith Farm – N6085 Center Rd, Monticello (from Monticello: West on Co C, turn left on Center Rd, farm is on right).  Workouts will continue on Wednesday evenings at 7:45 p.m. at rotating host sites for 5 weeks (Dairy Judging Schedule 2021).  If you plan to attend, please note Extension & 4-H COVID policy apply to these practices. All participants must…
Wear a cloth face covering while indoors
Maintain physical distance of at least 6 feet from individuals outside of your household.
Use hand sanitizer before and after the event
4-H families need to stay home and not come to the 4-H event if they are they are experiencing any of the symptoms of COVID-19 or have had known contact with anyone with COVID-19 in the last 14 days.
Read and follow the "

Daily Symptom Checks & Practices to Protect Yourself and Others

"
4-H Dairy Judging practice participants are also invited to participate in the regional 4-H Dairy Judging Contest at Area Animal Science Day, Tuesday, June 22nd at Jefferson County Fairgrounds.  Youth wishing to participate in this regional contest MUST individually register via 4HOnline (https://wi.4honline.com) by June 1, 2021. See the Dairy Judging Schedule 2021.
Our 4-H Dairy Judging Practices are being coordinated by Mike Marean ((608) 862-2699, marean@tds.net), with fellow 4-H coaches Tess Zettle and Ryan Smith.  If you are unable to attend the first workout, but are still interested in participating in this activity, please contact Mike Marean to let him know you are interested.  If you have any other questions on this event, please feel free to contact me at 328-9440 or by e-mail at ellen.andrews@wisc.edu.
---
Wisconsin State Fair Junior Dairy Committee
This is a 4-H committee that takes the lead planning the Green County Junior Dairy delegation, which involves youth from 4-H, FFA, and Junior Holstein Breeders. This committee is a sub-committee of the 4-H Dairy Committee, which is responsible to the Green County 4-H Adult Leaders.  The financial funds of this committee are held within the 4-H Adult Leaders' account and must be using in accordance with the policies and educational purposes of the 4-H program.
Next Committee Meeting – TBA
---
***New PDCA Showmanship Scorecard
---
Green County Fair Updates
Exhibitors participating in Showmanship MUST PRE-REGISTER on their fair entry forms to participate in showmanship classes.
NO Registered Cattle may be shown as Grade.
NO firm or farm name identification shall be carried, worn or displayed on an exhibitor or animal while in the make-up area or the show ring. Failure to comply with this regulation will permit the superintendent(s) to bar the exhibitor from showing until the regulation is complied with.
ONE alternate entry animal is allowed to be signed up in the "alternate class" if needed to be shown. This animal will only be shown if it replaces another animal already signed up.
All Dairy Cattle will be required to be brought to the fairgrounds and can only be unloaded between 9 AM-3 PM on TUESDAY, July 20, 2021.
Pop-up Tents will not be allowed around the dairy and livestock barns during fair week.
No Dairy exhibitors will be allowed inside the livestock barns from 11 PM-4 AM without a Milking Pass. Overnight passes will not be allowed.
Spring Heifer Calves are no longer required to be at least 4 months of age to exhibit at the county fair.
The Junior Fair Dairy Showmanship and Club Herd Judging will be held on Wednesday, of the Fair, starting at Noon. The Junior Dairy show will remain on Thursday of Fair.
Managerial Reminders
Exhibitors will be allowed to enter and show TWO managerial animals.
All non-managerial dairy cattle exhibited in the Spring Calf lot through the Fall Yearling lot must have been transferred and registered under the exhibitor's name BY MAY 1st of the exhibit year.
Veterinary Check-In Reminder
All dairy animals are required to go through the Veterinary Check-in area IMMEDIATELY after unloading and  PRIOR to tying animals in any of the barns.  Exhibitors need to have their registration papers available when unloading, and also need to have other family; 4-H and/or FFA members present to assist in taking their cattle to the barns after checking them in.  Animals will be given a tail band designating they have been checked in.  These bands must be left on the animals until they are removed by the superintendents after the check-in is completed.
---
James W. Crowley Award Application
Each year Green County selects ONE dairy youth to represent the county at the Wisconsin State Fair to be recognized for their Dairy Accomplishments.  We encourage you all to consider applying!  Applications are due to me at the Green County UWEX office by April 1st.  The winner will be notified by mail and receive an engraved medallion as the county winner.   If selected to move on to state, youth have the opportunity to receive additional recognition in the form of a plaque and scholarship money toward your education.   If you have any questions, please contact the Green County UW-Extension Office.  Good Luck!
Green County Dairy Youth Recognition Auction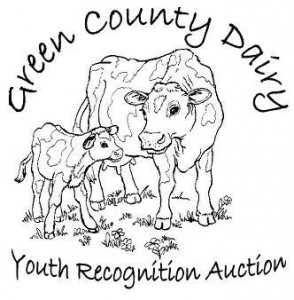 The Dairy Youth Recognition Auction was established as a means of recognizing accomplishments of outstanding Green County Dairy Youth.  The youth participate in an auction, where a symbol of the sale participant's achievements is offered for sale.  Each auction participant receives 50% of his/her bid price in the form of a savings bond, while the remaining 50% goes into the Dairy Youth Recognition Auction Fund to cover auction related expenses and educational scholarships for Green County Dairy Project 4-H and FFA youth.
---