Youth for the Quality Care of Animals (YQCA) Certification
Wisconsin has replaced the MAQA program with the YQCA program, a youth education certification program on the issues of animal welfare, food safety and character education.
This certification is required of:
Green County Fair Animal Exhibitors (Dairy, Beef, Swine, Sheep, Goats, Poultry & Rabbits) – submit the certification number as part of the Green County Fair entry process.
WI State Fair Junior Animal Exhibitors (Dairy, Beef, Swine, Sheep, Goats, Poultry & Rabbits) – please see the Wisconsin State Fair website for rules on this.
For more information on YQCA, please visit our YQCA page.
---
2022 Dairy Judging Information – mailed and emailed to Dairy project members and leaders on 3/1/2022
Letter to Youth – Dairy Judging 2022
Guidelines – Dairy Judging 2022
---
Wisconsin State Fair Junior Dairy Committee
This is a 4-H committee that takes the lead planning the Green County Junior Dairy delegation, which involves youth from 4-H, FFA, and Junior Holstein Breeders. This committee is a sub-committee of the 4-H Dairy Committee, which is responsible to the Green County 4-H Adult Leaders.  The financial funds of this committee are held within the 4-H Adult Leaders' account and must be using in accordance with the policies and educational purposes of the 4-H program.
Next Committee Meeting – TBA
---
***New PDCA Showmanship Scorecard
---
Green County Fair Updates
Exhibitors participating in Showmanship MUST PRE-REGISTER on their fair entry forms to participate in showmanship classes.
NO Registered Cattle may be shown as Grade.
NO firm or farm name identification shall be carried, worn or displayed on an exhibitor or animal while in the make-up area or the show ring. Failure to comply with this regulation will permit the superintendent(s) to bar the exhibitor from showing until the regulation is complied with.
ONE alternate entry animal is allowed to be signed up in the "alternate class" if needed to be shown. This animal will only be shown if it replaces another animal already signed up.
All Dairy Cattle will be required to be brought to the fairgrounds and can only be unloaded between 9 AM-3 PM on TUESDAY, July 20, 2021.
Pop-up Tents will not be allowed around the dairy and livestock barns during fair week.
No Dairy exhibitors will be allowed inside the livestock barns from 11 PM-4 AM without a Milking Pass. Overnight passes will not be allowed.
Spring Heifer Calves are no longer required to be at least 4 months of age to exhibit at the county fair.
The Junior Fair Dairy Showmanship and Club Herd Judging will be held on Wednesday, of the Fair, starting at Noon. The Junior Dairy show will remain on Thursday of Fair.
Managerial Reminders
Exhibitors will be allowed to enter and show TWO managerial animals.
All non-managerial dairy cattle exhibited in the Spring Calf lot through the Fall Yearling lot must have been transferred and registered under the exhibitor's name BY MAY 1st of the exhibit year.
Veterinary Check-In Reminder
All dairy animals are required to go through the Veterinary Check-in area IMMEDIATELY after unloading and  PRIOR to tying animals in any of the barns.  Exhibitors need to have their registration papers available when unloading, and also need to have other family; 4-H and/or FFA members present to assist in taking their cattle to the barns after checking them in.  Animals will be given a tail band designating they have been checked in.  These bands must be left on the animals until they are removed by the superintendents after the check-in is completed.
---
James W. Crowley Award Application
Each year Green County selects ONE dairy youth to represent the county at the Wisconsin State Fair to be recognized for their Dairy Accomplishments.  We encourage you all to consider applying!  Applications are due to me at the Green County UWEX office by April 1st.  The winner will be notified by mail and receive an engraved medallion as the county winner.   If selected to move on to state, youth have the opportunity to receive additional recognition in the form of a plaque and scholarship money toward your education.   If you have any questions, please contact the Green County UW-Extension Office.  Good Luck!
Green County Dairy Youth Recognition Auction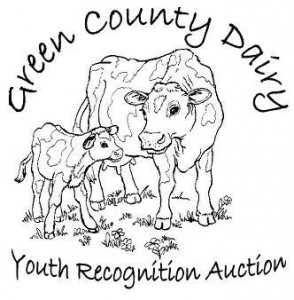 The Dairy Youth Recognition Auction was established as a means of recognizing accomplishments of outstanding Green County Dairy Youth.  The youth participate in an auction, where a symbol of the sale participant's achievements is offered for sale.  Each auction participant receives 50% of his/her bid price in the form of a savings bond, while the remaining 50% goes into the Dairy Youth Recognition Auction Fund to cover auction related expenses and educational scholarships for Green County Dairy Project 4-H and FFA youth.
---